Books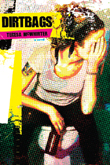 Dirtbags is a novel about reckoning—with one's past, one's choices, and one's expectations for the future. Spider is a scrappy kid growing up in rural B.C., and when a tragic event causes her world to implode she heads to Vancouver for solace, distraction, and experience.
We witness a shifting morality as Spider moves through chaos and anarchy, often of her own choosing, with no certainty of truth besides what is found in brief encounters. She soaks up the world around her, getting swept up in an accelerated scene of punk music, partying, booze and drugs, but she is forever dogged by a nagging question from her past: "When everything in your life is fleeting, what do you hold onto?"
Dirtbags deals with the bonds between women, the cycle of poverty, self-destruction, loss of family, the outlaw code, and the fragile beauty of the human condition.
This is Teresa McWhirter's follow-up novel to Some Girls Do.
Praise for Some Girls Do:
"Some Girls Do reads like candy, but offers philosophical tidbits and personal revelations. …" —BC BookWorld
"… a sharp poetic glimpse into the yearning but hopelessly unfocused lives of a group of marginal urbanites in a small West Coast city …" —Elle Canada
ISBN 1895636884
5 x 7.5 | 224 pp
20.00 CAN / 18.00 US
Rights available: World
ANVIL PRESS BOOKSTORE
Payments processed by PayPal
ISOLATION DISCOUNT: 30% OFF ALL BOOKS: For a limited time, all books are 30 per cent off



REST OF THE WORLD READERS
18.00