NEWS from the FORGE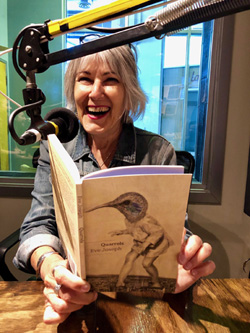 CONGRATULATIONS to Eve Joseph, WINNER of the 2019 Griffin Poetry Prize! Read more about her collection Quarrels here. (Photo of Eve reading at Coop Radio by RC Weslowski)


CONGRATULATIONS to Elee Kraljii Gardiner, whose poetry collection Trauma Head was longlisted for the 2019 Raymond Souster Poetry Award.


CONGRATULATIONS to Jen Currin, whose debut story collection Hider/Seeker was selected as one of the Globe and Mail's Top 100 Books of 2018!


BAD ENDINGS WINS THE CITY OF VANCOUVER BOOK AWARD!
Congratulations to Carleigh Baker on winning the 2017 City of Vancouver Book Award for her debut collection of stories, Bad Endings. Read more about the City of Vancouver Book Award and the other finalists here.


BAD ENDINGS — FINALIST FOR THE $50K ROGERS WRITERS' TRUST FICTION PRIZE!
Our most heartfelt congratulations go out to Carleigh Baker on this nomination. The winner will be announced Nov 14 at the Writers' Trust Awards. Read more about Bad Endings here.


TWO FINALIST NOMINATIONS FOR THE MONTAIGNE MEDAL
We are thrilled by the recent news that both Cretacea & Other Stories from the Badlands by Martin West and Garage Criticism: Cultural Missives in an Age of Distraction by Peter Babiak are finalists for this year's Montaigne Medal. The Montaigne Medal is part of the Eric Hoffer Awards and is an additional distinction, awarded to the most thought-provoking books.


SEEP — FINALIST FOR THE AMAZON.CA FIRST NOVEL AWARD!
Congratulations to W. Mark Giles whose debut novel, Seep is a finalist for this year's Amazon.ca First Novel Award. Read more about the award and the other finalists here.

RUE SHORTLISTED FOR THE GERALD LAMPERT MEMORIAL AWARD
Congratulations to Melissa Bull whose debut poetry collection, Rue has been shortlisted for the Gerald Lampert Memorial Award. Read more about the award and this year's finalists here.

VANCOUVER VANISHES — FINALIST FOR THE BILL DUTHIE BOOKSELLERS' CHOICE AWARD!
After months on the BC Bestseller list, Vancouver Vanishes, is now a finalist for the Bill Duthie Booksellers' Choice Award (BC Book Prizes). Congratulations to Caroline Adderson, Tracey Ayton, and all of the others that contributed to this fabulous book.

Congratulations to Jeff Steudel are also in order. Jeff's debut poetry collection, Foreign Park, is a finalist for this year's Dorothy Livesay Poetry Prize (BC Book Prizes) — congrats Jeff!

THE DELUSIONIST — FINALIST FOR THE KOBZAR PRIZE!
Grant Buday's most recent novel, The Delusionist is a finalist for this year's prestigious Kobzar Literary Award. The Kobzar Award is a $25,000 Biennial Award recognizing outstanding contributions to Canadian literary arts by authors who develop a Ukrainian Canadian theme with literary merit in one of several genres: literary non-fiction, fiction, poetry, young readers' literature, plays, screenplays and musicals. The Delusionist was also a Finalist for the 2015 City of Victoria Butler Book Prize.

SAVAGE 1986-2011 — WINS THE RELIT AWARD!
Congratulations to Nathaniel G. Moore whose novel, Savage 1986-2011 was selected as the winner of the 2014 ReLit Prize (Novel category). His first collection of short fiction, Jettison will be released in Spring 2016.

A CANLIT MILESTONE
"CanLit marked a milestone this spring, but you could be forgiven if you missed it. In May, Vancouver-based Anvil Press published the last of Quebec writer Nelly Arcan's books to be translated into English. (Arcan, who died at the age of 36 in 2009, published four novels in her lifetime; Breakneck was her third.) A trenchant writer on sex, gender, and death, Arcan was a great provocateur of French letters. But celebrity itself is a difficult thing to translate. In English Canada, Nelly Arcan remains obscure and misunderstood. That's a shame, because she's one of the best writers this country has produced."
—Jade Colbert, The Globe and Mail

THE DOOR IS OPEN MAKES CBC CANADA READS LONGLIST!
Congratulations to Bart Campbell, whose book, The Door Is Open: Memoir of a Soup Kitchen Volunteer has been longlisted for the 2015 CBC Canada Reads.


FINALIST FOR PEOPLE'S POETRY AWARD
We are pleased to announce that Marita Dachsel's Glossolalia has been shortlisted for the Acorn-Plantos
Award for People's Poetry. Congratulations to Marita and the other finalists!


ANVIL AUTHORS FINALISTS FOR BC BOOK PRIZES!
Congratulations go out to JENNICA HARPER for her poetry collection, Wood (Dorothy Livesay Poetry Prize), JANE SILCOTT for her debut collection of personal essays, Everything Rustles (Hubert Evans Non-Fiction Prize), and JESSE DONALDSON for his debut book on Vancouver's history, This Day in Vancouver (Bill Duthie Booksellers' Choice Award). Bravo to three fine authors and three very fine books!


And MARI-LOU ROWLEY's latest poetry collection, Unus Mundus for its finalist nomination for three Saskatchewan Book Awards — the University of Regina Book of the Year, the Saskatchewan Arts Board Poetry Award, and the City of Saskatoon and Public Library Saskatoon Book Award.


"PUBLISHER OF THE YEAR" AWARD! (2013)
Publisher Brian Kaufman, of Anvil Press, received the Jim Douglas Publisher of the Year Award from the Association of Book Publishers of British Columbia (ABPBC) at their awards ceremony on April 18, 2013 in Vancouver. From the ABPBC's press release, "Abundantly energetic and deeply committed to Canada's literature, Brian Kaufman is a daring publisher and it is the ABPBC's honour to present him with the Jim Douglas award for publisher of the year."
For more information about the award, visit the Association of Book Publishers of British Columbia website.
Congratulations to Madeline Sonik, WINNER of the City of Victoria Butler Book Prize for her collection of personal essays Afflictions & Departures.
The jurors cited Afflictions & Departures as, "a wonderfully generous book that returns us to one of literature's touchstones: intensely personal revelation rendered universal. Sonik's tone – cool and wry, manages to be simultaneously humane and funny."
Afflictions & Departures was also a Finalist for the Charles Taylor Non-Fiction Prize and nominated for the prestigious BC National Award for Canadian Non-Fiction, one of Canada's largest literary non-fiction prizes.
Other kudos include, Governor General's Award Finalist for David Scott Hamilton's translation of Paradis, Clef en main (Exit) by Nelly Arcan; 2011 ReLit Award Winner (short fiction category) for Ravenna Gets by Tony Burgess and an Acorn-Plantos Award finalist nomination for Kerry Ryan's poetry collection, VS.
Salut!